[fusion_builder_container hundred_percent="no" equal_height_columns="no" menu_anchor="" hide_on_mobile="small-visibility,medium-visibility,large-visibility" class="" id="" background_color="" background_image="" background_position="center center" background_repeat="no-repeat" fade="no" background_parallax="none" parallax_speed="0.3″ video_mp4="" video_webm="" video_ogv="" video_url="" video_aspect_ratio="16:9″ video_loop="yes" video_mute="yes" overlay_color="" video_preview_image="" border_size="" border_color="" border_style="solid" padding_top="" padding_bottom="" padding_left="" padding_right=""][fusion_builder_row][fusion_builder_column type="1_1″ layout="1_1″ background_position="left top" background_color="" border_size="" border_color="" border_style="solid" border_position="all" spacing="yes" background_image="" background_repeat="no-repeat" padding_top="" padding_right="" padding_bottom="" padding_left="" margin_top="0px" margin_bottom="0px" class="" id="" animation_type="" animation_speed="0.3″ animation_direction="left" hide_on_mobile="small-visibility,medium-visibility,large-visibility" center_content="no" last="no" min_height="" hover_type="none" link=""][fusion_text columns="" column_min_width="" column_spacing="" rule_style="default" rule_size="" rule_color="" hide_on_mobile="small-visibility,medium-visibility,large-visibility" class="" id=""]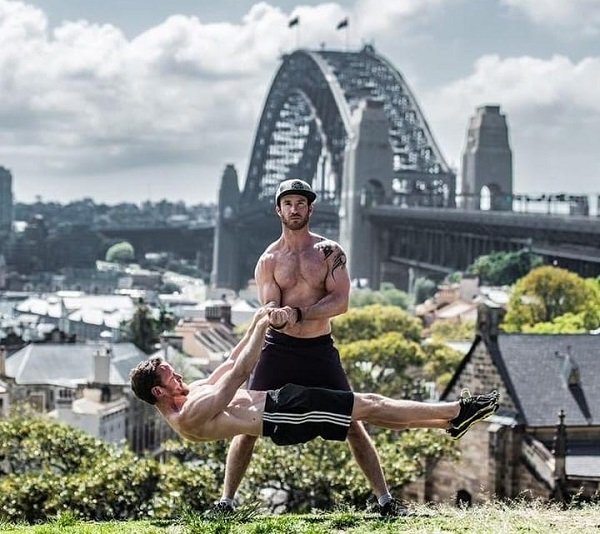 The Muscle-up
The muscle-up on the bar is one of the most sought after bodyweight strength moves.
It requires a decent level of strength, as well as some technique to get it right.
Well Developed Drills to Get You There Fast!
At Maximum Potential Calisthenics we have developed muscle-up drills that break down the move into more manageable components.
Once you can do the individual drills, the muscle-up will follow quickly.
How Long Will it Take Me?
As a minimum strength, you should be able to do 10 strict pull-ups, with the first one preferably being a chest to bar pull-up.
Once you have this it depends on how quickly you pick up the drills; we've had several people get over the bar first go or first session.
Others have taken a bit more time, but the higher your pull-up, the easier it will be.
We'll give you a better estimate after we've tested your strength at your free strength and movement assessment.
[/fusion_text][fusion_testimonials design="classic" navigation="no" speed="" backgroundcolor="" textcolor="" random="" hide_on_mobile="small-visibility,medium-visibility,large-visibility" class="" id=""][fusion_testimonial name="Shane Hurst" avatar="male" image="" image_id="" image_border_radius="" company="" link="" target="_self"]
I had been trying to do a muscle up for the 6 months before getting in touch with Dave and within 2 lessons I was on top of the bar!
[/fusion_testimonial][/fusion_testimonials][fusion_text columns="" column_min_width="" column_spacing="" rule_style="default" rule_size="" rule_color="" hide_on_mobile="small-visibility,medium-visibility,large-visibility" class="" id=""]
How Much Do Classes Cost?
A one off drop in session costs just $30.
Membership
Alternatively, you can sign up for membership, to enjoy access unlimited calisthenics classes.
Starting at just $35 / week for off peak membership.
Or $55 / week for anytime unlimited classes with over 30 classes in 2 different locations.
Locations
We're based at Observatory Hill near the Sydney CBD and Jannali in the Sutherland Shire.
When is the Bar Skills Class?
Our main bar skills class is on Mondays – 7pm, at Observatory Hill.
We also have an off-peak class at 3pm on Wednesdays at OH.
More info on our class timetable
Free Strength and Movement Assessment
Get started by clicking the link below and booking in for your free, no obligation strength and movement assessment.
[/fusion_text][fusion_button link="https://www.mpcalisthenics.com/sydney-free-strength-and-movement-assessment" text_transform="" title="" target="_self" link_attributes="" alignment="center" modal="" hide_on_mobile="small-visibility,medium-visibility,large-visibility" class="" id="" color="default" button_gradient_top_color="" button_gradient_bottom_color="" button_gradient_top_color_hover="" button_gradient_bottom_color_hover="" accent_color="" accent_hover_color="" type="" bevel_color="" border_width="" size="" stretch="default" shape="" icon="" icon_position="left" icon_divider="no" animation_type="" animation_direction="left" animation_speed="0.3″ animation_offset=""]Book Now[/fusion_button][/fusion_builder_column][/fusion_builder_row][/fusion_builder_container]