Update: This is an old post and has now been replaced with a more in-depth and up-to-date post, which you can read here
Calisthenics is the act of working out with little more than the weight of your own body, running, gymnastics, even martial arts are all forms of calisthenics, but more specifically I'm referring to bodyweight strength exercises.
I have nothing against lifting weights, but I choose calisthenics instead.
Can you get strong from just your own bodyweight, hell yes!
Check out some of my videos for some of the more advanced exercises you can do, or watch Al Kavadlo or Frank Medrano's videos on YouTube, these guys both have awesome strength.
Can you build big muscles as well? That's a topic for another day but for more information on that check-out Paul Wade's awesome C-Mass book.

Whilst seeing some very impressive feats of strength within these videos, you may be a little confused as to where to even begin training for these moves.
This is why I've put together these series of posts, the five exercises I list here are enough to give you a full body workout.
These are designed for beginners or de-conditioned individuals, so may be too easy for your requirements.
This is where progressive calisthenics comes in, we can make these harder by adjusting the angle, using one limb, decreasing the stability, the options are nearly limitless.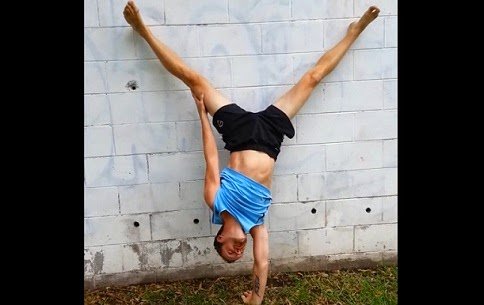 With calisthenics you don't need any equipment, for these exercises I'm going to demonstrate you simply need to find something you can hold onto for rows and you're good to go.
All these exercises work more than one muscle at a time.
This builds strength in a way that is useful in everyday life and will help prevent injury rather than lead to muscle imbalances.
You are only as strong as your weakest link in calisthenics, so if you have weak glutes for example, with short bridges then you'll see bigger gains in your glutes, whereas if you have a weak lower back, then you'll see bigger gains here.
For more information on this I can't recommend Paul Wade's Convict Conditioning enough; his books started me down this path and I can't thank him enough for it.
If all that sounded of interest to you, then read on to find out the details of the individual exercises.
What is Calisthenics?