Calisthenics is our passion, and coaching people to reach their maximum potential is our goal.
Our classes have been tested and refined to give you real, life-changing results.
Book in for a free strength and movement assessment to begin your journey.
Small Group Classes With a focus on Form
Our classes will progress you through basic strength exercises all the way through to advanced bodyweight moves.
We keep our classes small, this provides a safer and more personable experience.
Our instructors closely monitor your form to ensure you are performing the exercises safely and in a way that provides you with the best results.
What our students are saying
After years of shoulder pain and lack of mobility, My latest physio therapist referred me to Dave whom started me on a strengthening program. Within four weeks, I was able to do five sets of chin ups. Three weeks later, I was doing five sets of pull ups. My shoulder is now a lot stronger and I cannot be happier. I am looking forward to continue working with Dave as the method used is great; very professional. Thank you
Dave is an excellent coach. In only 16 weeks with I have remarkably improved my strength and also understood the principles of calisthenics. I found his workout to be very complete and adaptable to every level, with plenty of good stretch and warm up exercises. Not too hard, you will not get injured, not too easy, you will feel the work and you will see rewarding progress weeks after weeks. I highly recommend Dave.
I started seriously training by myself late last year and wanted to maximize my workouts so I wasn't wasting time and energy. Enter Dave after a quick search under 'Sydney Calisthenics' and the results have been incredible. His easy going manner and likeable personality makes him an excellent trainer. Highly motivating and helping me achieve feats of strength I'd never have thought possible. He caters a training plan to what you want with long and short term goals and helps you get the most out of every session. Under his learned instruction I find working out fun and looking forward to what I can achieve next.
I saw faster results in the first 6 month of training with Dave than I had in 2 years of solo bodyweight training. He as a broad knowledge of training methodology, the human body and injury prevention and is always happy to talk about why he has us doing certain exercises. He can make changes to our sessions to focus on personal goals or problem areas and generally runs a fun and interesting session.
Passionate Coaches Committed to Getting you results!
Our coaches love nothing better than seeing our students get results.
Success for us is defined by helping you reach your full potential!
Watch the video below to meet our coaches, or view our calisthenics coaches page.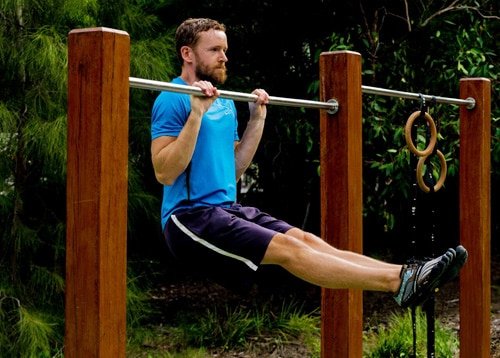 Calisthenics Fundamentals Classes
Calisthenics is well known for the feats of strength and skills seen on YouTube and Instagram.
However, in order to progress to these and to avoid injury it is important to work on the fundamentals!
This program includes 4 progressive full-body classes – suitable for all levels.
The fundamental classes should be a staple of your training.
Read more about our calisthenics fundamentals program

A sedentary lifestyle can lead to movement limitations that can hinder your calisthenics training or even cause injury.
In these classes we will work on improving 4 basic movement:
Toe touch
Deep squat
Shoulder mobility
Full bridge
We also work on fixing common posture problems caused by excessive phone usage and office work.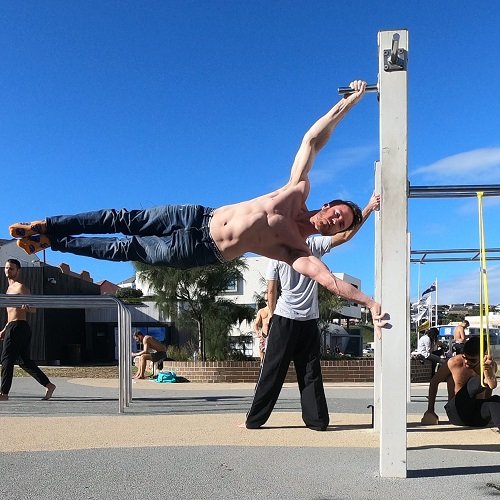 Want to perform a muscle-up? A human flag perhaps?
These are the classes for you!
Here we will teach you all the bar skills that calisthenics is famous for.
Read more about our bar skills classes

These classes will teach you to balance on just your hands. 
From a free-standing handstand to an elbow lever, we've got a massive array of skills we can't wait to teach you!
Read more about our handstand classes
Flexible Training Options
Consistent training is the key to seeing real progress with calisthenics.
For that reason our membership options allow you to come to unlimited classes throughout the week.
Starting at just $35 / week for off peak membership.
You can also pay per session at either $25 or $30 depending on the class.
Over 40 Classes a Week at 4 Locations + Online Classes
Our calisthenics classes are based in the following locations
Observatory Hill – Sydney CBD
Turruwul Park – Rosebery
Jannali – Sutherland Shire
Don Lucas Reserve – Cronulla
Online – Using Zoom conferencing software, you can now attend our classes online from the comfort of your own home or nearby gym
Click through for more info on our locations.
We currently have over 40 classes running each week.
We are constantly adding to this as our membership base grows, to give you the most flexible training options.
Click through to see our Sydney Calisthenics Classes Timetable
Why wait? Sign Up and let's get you results, Fast!
Free Strength and Movement Assessment Available Now