Our classes will progress you through basic strength exercises all the way through to advanced bodyweight moves.
We keep our classes small, this provides a safer and more personable experience.
Our instructors closely monitor your form to ensure you are performing the exercises safely and in a way that provides you with the best results.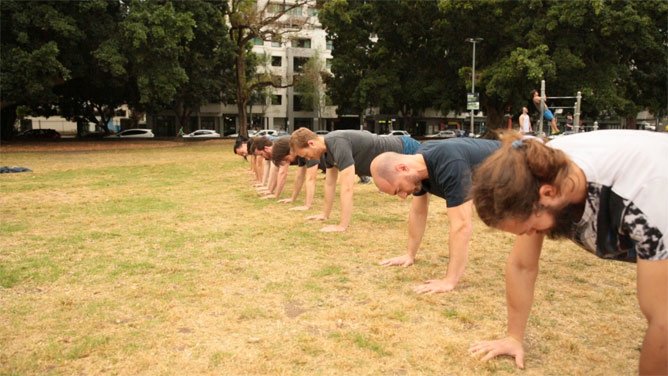 Skip to:
Why Should I Start Calisthenics Classes?

There are many great benefits to our classes including:

Improved posture
Increased muscle tone
Stronger joints
Less injury prone
More energy
The elation of 'unlocking' a strength move you previously thought impossible!

Membership

Membership options are available. Starting at just $35 / week. Click here for more info on membership.

Class Timetable



Unable to make the time above? Drop us an enquiry as we may be able to run other classes.

Calisthenics Fundamentals Class – Beginner

Our beginners classes will help you build up strength and confidence as you work towards exercise progressions and moves such as bodyweight squats and push ups.

We provide a free strength and movement assessment for all our new starters.

Calisthenics Fundamentals Class – Intermediate

Our intermediate group classes will guide you through core calisthenics moves, such as pull ups and progressions towards one arm push ups, and will help build a solid foundation in preparation for advanced moves.


If you're comfortable doing exercises such as full range squats and push ups then the intermediate classes are probably for you!

If you're not sure which level class to attend, not to worry, as we can work this out during the strength and movement assessment. Enquire below to book in for your free strength and movement assessment.

Strength and Movement Assessment

We provide all our new students with a free assessment prior to starting classes.

During the session we'll discuss your goals, specific needs, and assess your current fitness and strength level.

Where Are Classes Located?

Observatory Hill

Observatory Hill in Millers Point, Sydney. Running alongside Upper Fort Street.

Jannali

Outdoor home gym in Jannali, Sutherland Shire, South Sydney. Address will be given upon booking the strength and movement assessment.

If you are unable to attend one of these locations, you can train with us online. Take a look at the Calisthenics Online Training page for more information.

Any Questions?

If you have any questions on Calisthenics classes in Sydney please send us an enquiry below and we'll get back to you very soon.