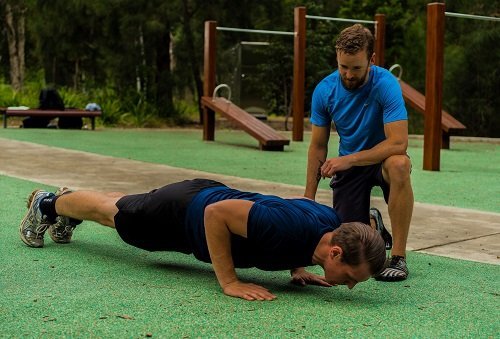 Are you interested in outdoor bodyweight strength training?
Have you watched calisthenics videos and been inspired to learn some of the moves, but aren't sure where to start?
Or maybe you want to lose a little weight and get in the best shape of your life!
We can help you get there!
Calisthenics is our passion, and coaching people to reach their maximum potential is our goal.
By joining MP Calisthenics, you will receive training from a specialist calisthenics coach.
What Our Students Are Saying
Free Strength and Movement Assessment
Before beginning your Personal Training journey, it is important that we can assess your current movement capabilities and determine your goals.
We can then use this information to personalise your training.
Simply press the button below to book your free, no obligation strength and movement assessment.
Where Are We Based?
At MP Calisthenics we teach in the outdoor gyms in Sydney.
This means you don't need to be a member of a particular gym and you get to enjoy Sydney's outdoor lifestyle.
The parks we operate in include, but are not limited to:
What Do I Get as an MP Calisthenics Student?
At MP Calisthenics we pride ourselves on our customer care.
As part of our service you will get the following:
A free and thorough consultation to find out your goals and training history.
An intervention strategy should you skip any sessions, with a commitment to getting you back on track.
A passionate calisthenics coach, who will motivate and inspire you to reach your goals.
A progress review and updated training plan every 4 weeks.
Book more than one session a week and you will receive a free online plan for the rest of the week.
Exclusive access to the MP Calisthenics Games, our competition we run twice yearly for all students past and present.
10% discount on all Kenguru Pro Australia Pull-up bars.
So How Do I Hire an MP Calisthenics Coach?
Step 1: Press the button below and find a suitable time for your free consultation.
Step 2: Your movement and strength will be assessed.
Step 3: Agree long and short term goals.
Step 4: Sign up to the online app that we use to monitor your progress.
Step 5: Start Personal Training!
Step 6: After 4 weeks we will review your progress and update your short term goals and plan.
So what are you waiting for, contact us today and start making life changing results!
What if I am unable to attend PT at one of the Sydney locations?
We now offer Calisthenics online training so you can train with us no matter your location. Get in touch via the form below if you have any questions or would like to get started with online training.
Any Questions?
If you have any further questions, then simply fill in the contact form below.