We went down to take a look at the new Don Lucas Reserve Fitness Park in Cronulla to find out if this could be Sydney's best outdoor gym.
The gym was officially opened on 14th October 2022 by the Sutherland Shire council, who are keen to promote active lifestyles and provide access to parks and outdoor spaces for the community.

With a range of equipment at different heights, soft flooring, benches and access to nearby playground, basketball court, walking paths overlooking the sea, plenty of space to sit in groups or kick a ball around there is something for everyone. 

What Equipment Is There At Don Lucas Cronulla Outdoor Gym?
The setup consists of:
Box Jumps

Push-Up/ Row Bars

Swedish Bars (wide ladder)

Benches

Incline Benches 

High Bars and Monkey Bars

Multibar unit with pullup bars at different heights

Triple Parallel Bars

High Parallel Bars

Multi-Stretch Station 
It was great to be included in the consultation of this project and it's exciting to see some of our ideas incorporated in to the design, particularly things like the high parallel bars, the Swedish bars and and the various pull-up bar heights.

There are two low box jumps at different heights, useful for practicing your jumping or for squats, push-ups, calf raises and gentle step downs.
There are 3 of these bars in a row, each of different heights at: 100cm, 75cm and 50cm.
As suggested by the name you could use these bars for progressing your incline pushups or rows, start at the higher bar and when that's too easy move to the next bar. 
This wide ladder type structure is perfect for doing a human flag, stretching, calf raises, or (as is popular with the kids) use it for climbing.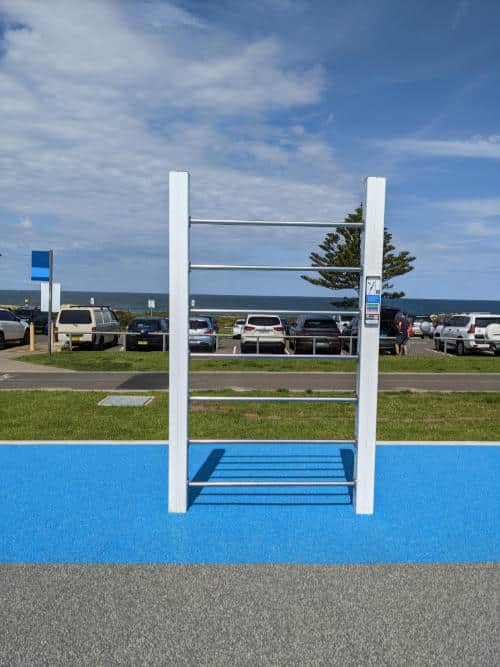 There are 2 benches at opposite sides of the gym for when you need to take a rest, or use them for exercises such as partial squats or partial pistol squats.
There are 4 incline benches connected with a low bar (about a fist height from the floor) which is ideal for hooking your feet under to do nordic hip hinges. 

The first two benches are about 75cm high at one end, sloping down towards the floor, the last two benches are just over a meter in height (110cm) sloping downwards. All benches have a small horizontal bar at the top, making it ideal for exercises such as dragon flags.

High Bars and Monkey Bars
The high bars are perfect for taller athletes at 260cm and 240cm or for those who are comfortable jumping up to the bars.
They are around 150 cm wide, so great for muscle ups and wide enough for two people to use one bar. 
They are connected to monkey bars, which are a bit lower at around 220cm.
The 3rd and 4th bars on the monkey bars are a little wider apart making it a bit more challenging to swing between. This provides enough space for doing pull ups on them too.

This "P" shaped unit consists of various height bars from 160cm to 240cm, making them accessible to a range of people and suitable for a range of skills.
These bars are close enough to allow you to lache (swinging jump) between the bars.

The triple bars are suitable for exercises such as L-Sits, Planches, Handstands and dips.
The height of these bars is 950cm, with widths of 55cm and 65cm.
These bars are 120cm high and 55cm wide and will suit taller athletes or those wanting to use the bars for rows or standing pull ups.
The Multi-Stretch station has a leg raise station, pull up bar (130cm high) and calf stretch station.

Is Cronulla Outdoor Gym Sydney's Best Outdoor Gym?
In our view, the outdoor gym at Don Lucas Reserve, Cronulla in Sydney's south is definitely the best outdoor gym in Sydney.
Why? Because it's Sydney's biggest, newest outdoor gym located right next to the beach (that view!) and has equipment for all levels and skill sets.
If you are a calisthenics enthusiast you will love this gym as there is different equipment to cater for all the calisthenics exercises and progressions. 
The soft flooring makes it much safer for landing and kids play. 
There's a great vibe, with plenty of people around playing sports, relaxing or keeping fit, with 2 basketball courts next to the gym plus a foot/skate path and large grass area.
For those with kids there is a playground adjacent to the gym, a toilet block, walking paths that take you to the Cronulla dunes and it's just a couple of minutes to get down to the beach. 
If you're looking for a coffee shop, Top Shop café is 5 mins walk away and Bianchini's coffee shop is less than 10 minutes walk down the road.  

How Do You Get To Sydney's Best Outdoor Gym?
You can walk from Cronulla train station (about a 20 minute fast paced walk) or drive down as there is quite a bit of parking nearby.
It can get busy on weekends though especially in the summer. 
Have you checked out Sydney's best outdoor gym? Let us know your thoughts in the comments.